Thank you and David and your lovely team for all your help for the party. The food was delicious and so many people have said how good it was. And we have been enjoying the left overs too! We both really appreciated your support when you arrived on Sat evening and calmly set up.
I realised then that it was all going to be fine in spite of the slight change of seating plans. In fact the whole thing couldn't have gone better and I had a great time! Please say thank you to your team. They were professional. attentive and charming to all the guests who were well looked after.
With warmest best wishes and thanks
Many thanks, Carol.
Everything was excellent – we were delighted, and it was so good to be able to leave everything to you and not have to worry about a thing! It all ran very smoothly indeed.
I'll look forward to receiving the invoice.
Best wishes
Dear  Carol,
Thank you so much for doing such wonderful catering on Saturday – you and your husband and staff were all so friendly and set the tone for an enjoyable and stress free evening.  You had thought of everything!!
Look forward to seeing you.
All the best
Carol,
A very belated thank you on my part for your hard work and amazing food here for my mother's 80th birthday earlier this month.
You did a fantastic job and everyone who came has spoken incredibly highly of the food – it really was delicious.
Hopefully it won't be another 10 years until we have another party and we see you again.
Best wishes and thanks for helping to make the celebrations so very special.
Thankyou so much to you and your team for providing such great food and service for our guests.
I think it must have been a very difficult challenge and I thank you for being willing to take on the job.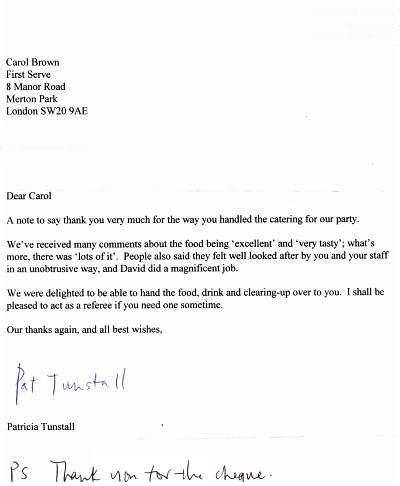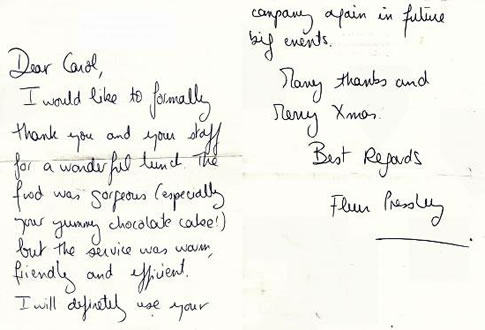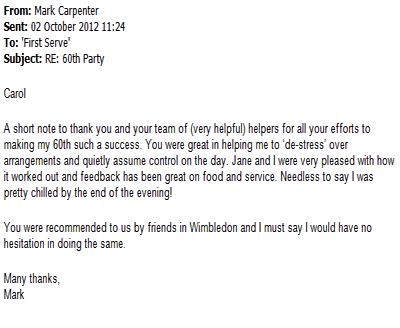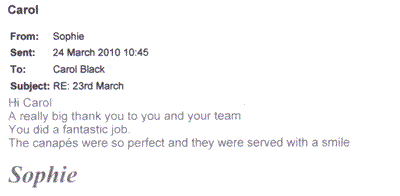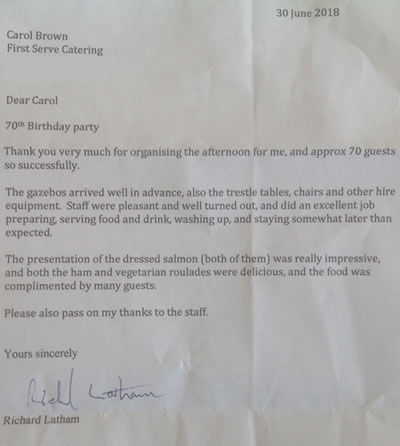 Dear Carol, that was an amazing party, at the heart of which was a really lovely dinner, thank you so much, you and David and your team were immense, we were wonderfully looked after and everyone went home on a cloud of joy.
Please tell David I particularly appreciated his help with setting up, getting the five tables up and running, and turning u the heat! Your team were outstanding all evening, and delightful.
Liz is a very happy girl.
Job done.
Dear Carol,
That was great! Thank you so much for all you and your team did to make today's party such a success. You will know from the reaction of our guests that your menu was very well received – and you were much admired for making it look so effortless!
Best wishes
"I would like to thank Carol and her team for making our wedding day really special.  They fought against the elements (it was easily the hottest day of 2012) and provided tasty food, and exceptional service to us and our guests.
The service that they provided was very personal and discreet and i would highly recommend anyone to use them!"
Dear Carol
Just a note of thanks to you, Annie Natalya and the rest of your term for doing such a fine job yesterday.
The whole day was a great success, and a big part of that was down to the excellence of the food, the plentiful drink topping up and the efficiency and niceness of all of you. Even in the face of dysfunctional ovens!
Special mention to the cheese and leek tartlets and what I heard described by several people ads 'best ever' fruit cake!
Luv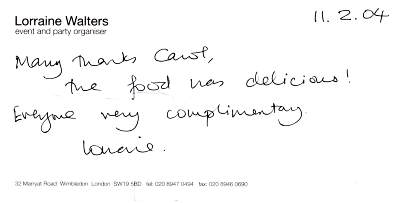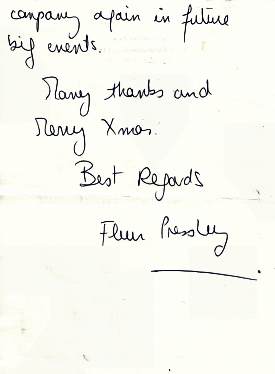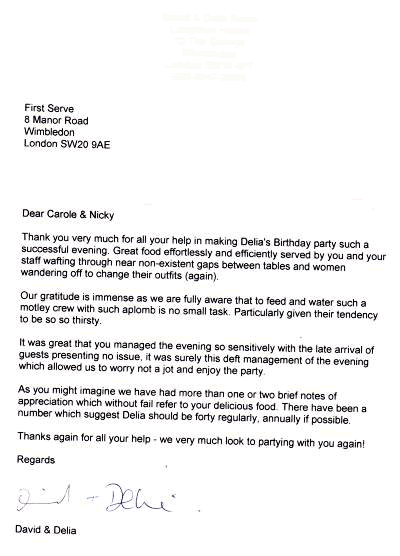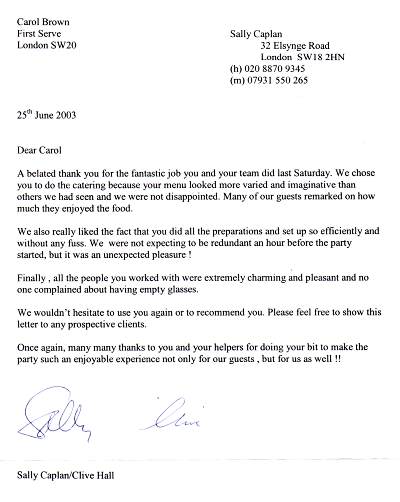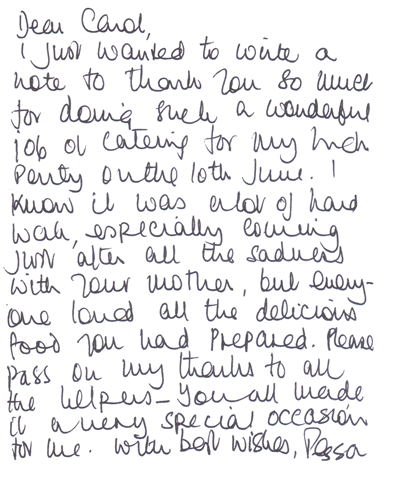 Reviews of our Private Catering Service for Wimbledon, Merton, South London & Surrey
Above are a collection of reviews of our Private Catering Service for Wimbledon, Merton, South London & Surrey